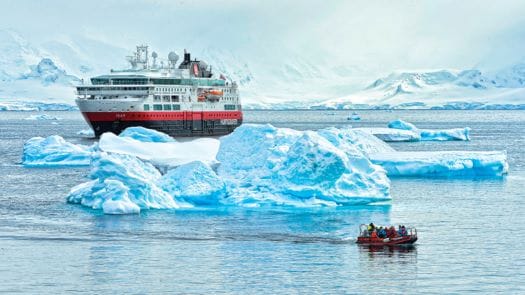 The lady in the cancer book shop where I regularly search the shelves for a good bargain as well as a good read, told me she was spending Christmas in the Antarctic. 'Very expensive,' she murmured. 'Really?' I replied, naive and astonished, thinking of a tough Christmas in Scott's hut. 'Surely not? Do you stay in a B and B?" I asked incredulously. "No, no," she laughed, "a cruise ship."
This I find fascinating… just over a hundred years after Scott's dreadful journey and death, we now go to spend holidays in the big chill. Expensive… yes, I bet – with a grand Christmas dinner – turkey and roast potatoes, Christmas pudding and a full complement of wines thrown in on board the warm floating hotel.
On the other hand, I shudder to think of Captain Robert Falcon Scott's Christmas dinner with Wilson and Oates and Bowers and Evans at the South Pole. Scott recorded what he grandly termed four courses. " The first, pemmican, full whack, with slices of horse meat flavoured with onion and curry powder and thickened with biscuit; then an arrowroot, cocoa and biscuit hoosh sweetened; then a plum pudding; then cocoa with raisins, and finally a dessert of caramels and ginger."
(Pemmican was the classic polar food – preserved and dried meat) Birdie Bowers, and Taff Evans (there were two E. Evans on the expedition) both felt so filled with warmth and human kindness after this extraordinary collection of unpalatable rubbish, that they decided that when they got back to England they would "get hold of all the poor children we can and just stuff them full of nice things, " in bachelor Bowers' words. Sadly there are even more 'poor' hungry children today in a world of affluence…
Bowers was responsible for the Christmas celebration, having smuggled the food over and above the allowed weights for the journey. Once the recalcitrant and desperate Mongolian ponies – who had suffered so terribly on the sea journey to the Antarctic, and who had then struggled endlessly in appalling weather and conditions on food they couldn't eat – had been killed, every man carried his own food and equipment on the heavy sleds. Bowers had always sneaked his night-time biscuit to his pony. On the night before they were all killed, Wilson, St Francis's man, gave his whole biscuit ration to the poor creatures, like the condemned man's last meal.
Scott's men unwittingly starved to death. For most of the journey they suffered from hunger, and spent long reveries dreaming about food as they trudged through the snow and icy winds, watching each other like hawks as the pan of hoosh was handed round at night. There was no variety. Every night the same, pemmican, cocoa and biscuit. The cocoa was cooked in the same pan as the pemmican, so it tasted of pemmican anyway. Though they had planned their rations according to known standards of nutrition at the time, they failed to take into account the human body's needs for vitamins.
The more I learned about this historic expedition which has stayed in the collective memory of the world, the more Scott's society seemed like a bees' tight-knit society, Scott himself being queen-bee. As in the bee-hive, there was no crime in Scott's world, and very little discord – restraint kept most grievances tightly bottled up… Scott was king, as well as queen bee, distant, demanding, admired, respected, deferred to – to their disadvantage, sometimes. Oates wanted to take some of the weaker ponies as far south along their route as possible, to kill and leave to eat on the long Polar return journey, but Scott vetoed this idea. It could have saved their lives.
They kept themselves amused through the endless black polar days and nights with a variety of imaginative ploys…Apsley Cherry-Garrard was the editor of the South Polar Times, a publication typically initiated by Shackleton on Scott's first expedition, and revived in 1911, type-written with illustrations consisting of line drawings and coloured sketches by Wilson. It carried, among other things, a flourishing letters to the editor page.
There was also a piano and a wind-up gramophone to amuse the lads, donated by HMV before they left. They read – Laurie Oates, nicknamed 'Titus' after the notorious seventeenth century conspirator of the same name, read 'Napier's History of the Peninsula Wars, Cherry -Garrard, the complete Kipling, Day devoured Dickens, while others read Victorian poets and popular novels. They played chess and backgammon and cards. Significantly Scott was always beaten at chess by Nelson, so took to playing with Atkinson, a man he could beat. Scott also organised lectures to occupy the sixteen – strong company, a diverse group ranging from a non- English-speaking Russian groom, to the scientists, sailors and adventurers. They were English, Norwegian, Canadian and Australian.
Cavalryman Captain Oates, who in spite of being taciturn, was a very potent presence and a penetrating observer, unimpressed by Captain Scott, spent a great deal of time trying to cosset his ponies, and many hours crouching with them in their freezing stalls, coaxing them to eat their in-edible rations, or rescuing harness, headstalls and any other object which the bored and ravenous animals were tempted to devour. Oates's cronies who shared one side of the cramped hut while wintering at Cape Evans, consisted of Bowers, Cherry-Garrard, Atkinson and Meares, who were known as The Tenement Dwellers, anti- feminist, anti-scientist, conservative and spartan – and, one has to add – narrow-minded and philistine.
The other side of the twenty-five- foot wide hut were the scientists, who made a dainty attempt at home-making, mocked by Oates who called their space The Opium Den. They draped a curtain, scrounged from photographer Ponting, across their bunks to give themselves privacy. One added a branch acetylene light, another stained everything stainable with Condy's fluid, making it a uniform red brown, the Norwegian, Gran, put red borders made from photographers' material on their shelves, while another adorned his bunk with a piece of dark blue material which had started life as part of a Sunday altar cloth.
With all this, they danced together (the fiendishly difficult Lancers), sang together (at church services), reminisced together, and confided in each other (typically Oates's confidences were about his old nanny in Yorkshire, and his commanding officer in India – Douglas Haig, soon to command the armies on the Western Front in WW1). Each man had his own duties, and shared the rest with every-one else. They were usually busy, or exhausted. No-one shirked or dodged. They looked out for each other. They too, were busy as bees, and the devil never found any idle hands. Each man knew his place in the scheme of things, and the hierarchy was as rigid and unchanging as that in the bee-hive.
Understatement was the preferred mode of communication. When they're fighting for their lives and baling endlessly during terrible storms they use code words like "interesting " and "exciting" to cope with their fear and their feelings. Oates writes to his mother about the Antarctic before he gets there: " the climate is very healthy although inclined to be cold". No-one ever seems to get cross or impatient, according to Scott, who records his own assessments of members of the expedition in his diary.
They relied on each other for company and comfort, succour and safety. They knew that their survival depended on each other, and perhaps in this way discovered for themselves the truth of the ideal society in which all life and all things and all men are connected to each other. No-one is separate from the whole, a truth civilisation has forgotten.
Writing in his book 'The Worst Journey in the World' of the expedition to Cape Crozier he made with Bowers and Wilson to collect Emperor penguin eggs, Cherry Garrard said ' And we DID stick it… We did not forget the Please and Thank you, which mean much in such circumstances, and all the little links with decent civilisation which we could still keep going. I'll swear there was still a grace about us as we staggered in. And we kept our tempers – even with God.' A bond of mysticism carried these three men through.
Tactful Dr Bill Wilson, secret disciple of St Francis, and known as Uncle Bill, was the advisor, peace-maker and comforter in the tiny Polar society. Birdie Bowers, bachelor, tiger for punishment, endlessly strong and tireless long after everyone else was fainting with exhaustion was the other closet mystic in the party – " The purpose of life" he wrote, "… is to make a great decision – to choose between the material and the spiritual, and if we choose the spiritual we must work out our choice, and then it will run like a silver thread through the material… nothing that happens to our bodies really matters…
In spite of their failure to be the first to reach the South Pole – Amundsen beat them to it in a race they hadn't bargained for – the triumph of their spirits over the terrible adversities they faced, has made their journey unforgettable. Scott's biographer, Crane goes further, saying Scott's " letters, diary and last message extend our sense of what it is to be human. No one else could have written them; no one else, at the point of defeat and dissolution, could have so vividly articulated a sense of human possibilities that transcend both." And in spite of their deaths, Scott's scientific measurements, researches and discoveries were of enduring value to later explorers.
So at the edge of the world, on the edge of starvation, at the end of their tethers and at the end of their lives all four of the returning four Pole team members manifested courage, courtesy, kindness, decency and transcendent humanity … including heroic Oates limping out into the blizzard to die so his fellows might save themselves. These qualities are sometimes felt to be out of date in our modern times, but they are the qualities fostered by the Christian faith which is what Christmas celebrates, something sometimes forgotten in the general feasting, shopping, partying, gift giving and receiving.  I wonder how the Christian festival will be remembered on that passenger liner in the Antarctic – and how Scott and his men will be remembered too…
Food for threadbare gourmets
I'd made an extra pastry quiche shell, so I tried a new recipe, using pumpkin and kumara/sweet potato. Take a chunk of pumpkin weighing between four and five hundred grams, and grate. Grate a kumara, and mix them together in a largish bowl. Stir in half a cup of flour, and two cups of grated cheese. Beat six eggs with three quarters of a cup of cream, and stir into the mix, along with a tablespoon of mild curry powder and cumin each. Salt and pepper to taste, spread in a deep pastry shell and bake in a moderate oven for roughly 45 minutes. I served it with green beans and a few rashers of bacon for the resident carnivore! It was good cold too.
Food for thought
We are all visitors to this time, this place. We are just passing through. Our purpose here is to observe, to learn, to grow, to love… and then we return home.                           Australian Indigenous people's proverb
,